Draw Textured Yarn: DTY
DTY is a multifilament yarn with soft crimp, high bulk and texture creating natural feel, high durability and retention properties. DTY is suitable for fabric end uses like outer/inner garments, tight-fit garments, furnishings as well as upholstery.
Note the following table:
Full Dull:
According to the above table, simple and intermingled DTY full dull yarns are classified from 50 to 300 denier with the number of filaments.
The following table shows the characteristics of DTY semi dull yarns from 50 to 300 denier and its number of filaments. To better understand the table, we define the following terms:
FD: Full Dull
SD: Semi Dull
Nim: Non intermingled
Sim: Slight intermingled
Him: High intermingled
    Semi Dull:
DTY bright yarns from 50 to 600 denier and its number of filaments are classified in the following table:
Bright
The applications of DTY yarn are shown in the following figure: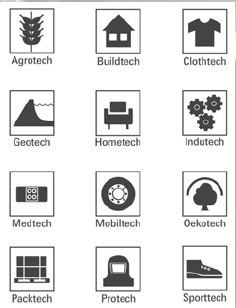 As can be seen, these applications include use in home appliances, packaging industry, transportation industry, geotextiles, sporttech and etc.
The number and the regularity of the intermingling knots are one of the most important prerequisites for high end downstream operations.
Pre-Intermingling
Pre-intermingling is an attractive solution for improving the quality of the yarns with high number of filaments, overcoming manufacturing problems and increasing overall machine performance. Furthermore, special products manufactured with special intermingling jets can create competitive advantages
Intermingling
Regular and high quality intermingling is crucial to success especially for the warp yarns of downstream weaving applications. To achieve the best-possible intermingling quality, the Tepar Barmag texturing machines are equipped with the special intermingling zone prior to the secondary heater.